1. Open your preferred web browser on your device.

2. Type "app.spechy.com/login" into the address bar at the top of the browser window.

3. Press the Enter key or click the "Go" button to navigate to the Spechy App login page.
4. Once the page loads, locate the "Create an account" option, located below the login form, and click on it.
5. You will be directed to the registration page where you can create a new account.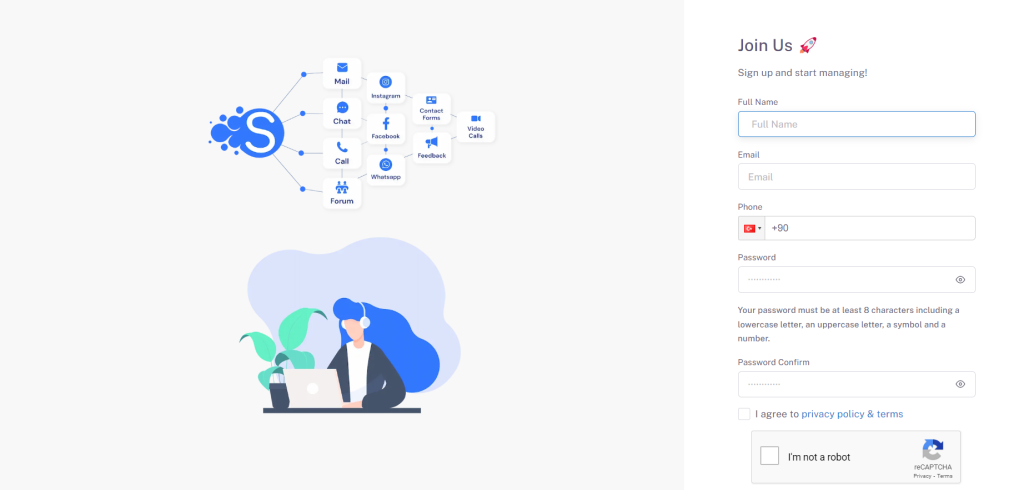 6. Fill in your full name in the provided field. Enter your first name followed by your last name.

7. Enter your email address in the designated field. Make sure to provide a valid email address as it will be used for communication and account verification purposes.

8. In the phone number field, enter your mobile number. Select the appropriate country code from the drop-down menu next to the phone number field.

9. Create a secure password for your Spechy App account. Choose a strong password that includes a combination of uppercase and lowercase letters, numbers, and special characters.

10. Confirm your password by re-entering it in the "Confirm Password" field.

11. Read through the terms and conditions of Spechy App carefully. If you agree to them, check the box or click on the checkbox provided to indicate your acceptance.

12. Complete the reCAPTCHA verification process by following the instructions on the screen. This step helps ensure that you are not a robot and helps maintain the security of the platform.

13. Once all the required information is filled out and the reCAPTCHA is completed, click on the "Register" or "Sign Up" button to create your Spechy App account.

14. A confirmation email will be sent to the email address you provided during registration. Copy the code and paste it into the tab that popped after clicking register.
15. After successfully verifying your account, return to the login page and enter your registered email address or username in the "Username" field.

16. Enter your password in the "Password" field.

17. Optionally, check the "Remember me" or "Keep me logged in" option if you want the Spechy App to remember your login details for future convenience.

18. Click the "Login" or "Sign In" button to log in to the Spechy App.

19. After a brief verification process, you will be redirected to the Spechy App's main dashboard or home screen, where you can access all its features and functionalities.
20. Congratulations! You have successfully registered and logged in to the Spechy App. Start exploring the app's resources, tools, and content to enhance your experience.
Remember to keep your login credentials secure and avoid sharing them with anyone to protect your account's privacy and security.